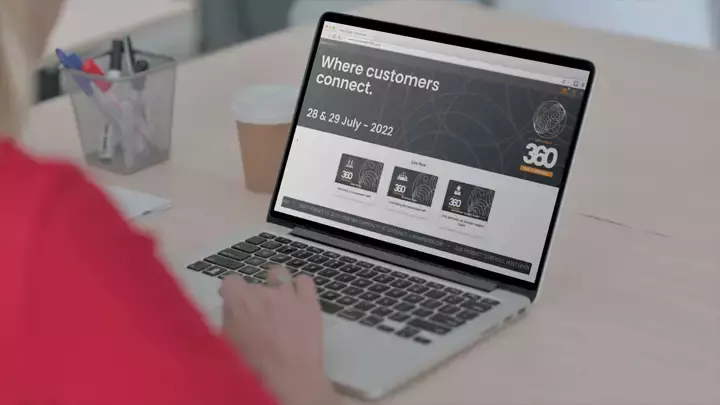 Why Webble-Up?
Thinking about hosting a hybrid event but not quite sure how to go about it and which options are available to you? Not to worry! Webble-Up makes blending offline and online elements surprisingly easy. We seamlessly integrate your physical event with a robust virtual platform that's packed with interactive features to engage your audience. Our platform can handle a large number of participants from any country. Additionally, our outstanding service ensures you'll provide a smooth and unforgettable experience for both your online and your offline viewers.
Blending the offline & online experience is surprisingly easy!
Effortlessly blending the offline & online experience
Curious how we integrate the offline experience with a virtual platform? It's more straight-forward than you think! For instance, we can adjust the view for live and virtual attendees. Those at the physical venue may see fewer options, compared to the people at home. After all, we wouldn't want the attention of those present at the live event to stray too much from the speaker. The online viewers, however, get access to more immersive features and apps to enhance their experience. And naturally, all viewers will be connected at all times and free to interact with the speaker or each other via polling, chat, Q&As, video calls or professional speed dating.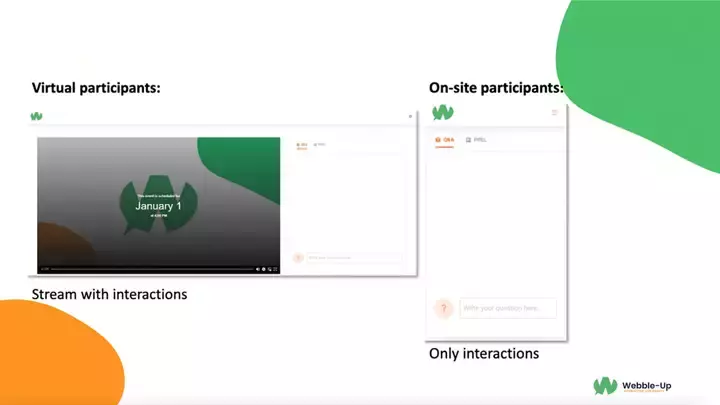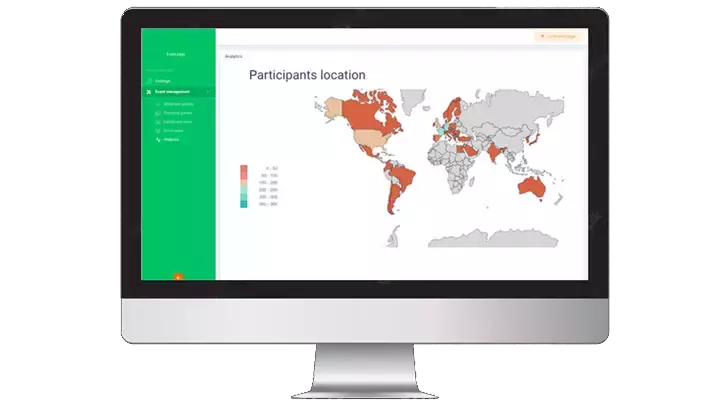 Improved reach & global exposure
Hybrid events are the ideal solution to optimise your reach & increase exposure of your brand! By giving your prospects the option to participate virtually from the comfort of their own homes, you'll get rid of any time or financial restrictions that would normally keep them away. Our platform supports streaming for viewers from all over the world, including China! Do you need translations for a multilingual audience? We'll take care of it! Invite attendees from all around the globe and go for maximum brand impact.
A robust & completely customisable platform
We designed our platform to suit any size of event, from intimate board meetings to international mega-events. Whatever your needs, we'll ensure you're hosting your hybrid experience from a platform that's completely branded and customised according to your preferences. Any cutting-edge features or interactive tools you'd like to add, we can arrange. You'd rather leave certain elements to an external party? No problem, we can make it happen.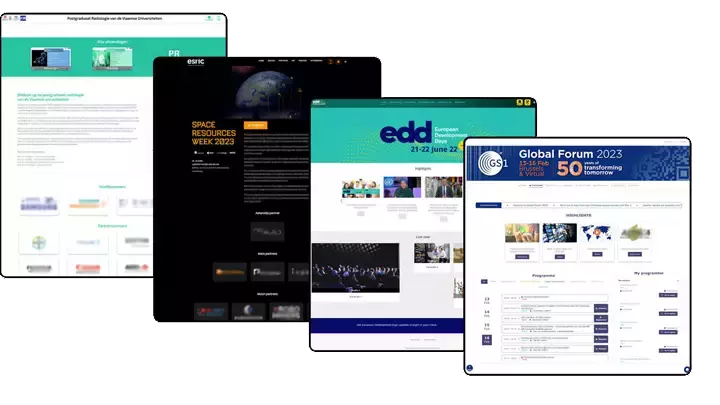 What can you do on Webble-Up?
Networking Tools

Multilingual

Live engagement
Networking Tools
discover more
Networking doesn't just happen during the breaks or at the bar! Agreed, there's nothing quite as powerful as face-to-face interactions. But the number of people you can physically talk to at an event is limited! With our networking tools, we're recreating the offline experience and unlocking a whole host of virtual networking opportunities.
Multilingual
discover more
Got important attendees calling in from China? No worries! We can translate our entire platform in 1, 3 or even 30+ languages, you can choose the language(s) of your video stream and the languages in which you want to offer subtitles. Likewise, we're happy to change any copy to suit your preferences if you'd like to change the wording on the platform or if there's a particular idea you'd like to express.
Live engagement
discover more
Did you know your viewers can now react to a live stream with emoji's? It's a simple but effective way to up the fun factor! This is just one of our many interactive features we include to enhance the experience and boost user engagement. Of course there's also the possibility for direct interaction through live chat, polls and Q&A's. The interactive bits of your event can also be used on a second screen, their mobile devices.